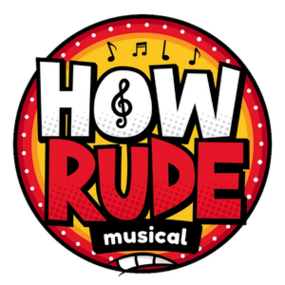 April 22, 2023
HOW RUDE!
A Review by Ross Alan Bachelder of www.artsaplenty.ME
"HOW RUDE," the current offering at Footlights Theatre in Falmouth, Maine, through May 6, is a lightning-fast, cleverly choreographed performance of 22 hilarious songs devoted entirely to the all-too human propensity for people to be obnoxiously, relentlessly rude in every situation you can think of.
Where there is humankind, there is rudeness. Even dogs and cats, earthworms and hippopotami have more refined sensibilities than the average homo sapien. Have you ever been humiliated by a muskrat? Demeaned by an aardvark? Insulted by a cockatiel? (Well, maybe, on occasion, those little avian troublemakers have been known to say some smart-ass things in polite company. I mean, parrots do, don't they?)
To tell the never-ending story of humanity's bad manners, chronic incivility, and appalling selfishness, Michael J. Tobin — the Executive Artistic Director at Footlights — has once again put together a very interesting troupe of actors— six of them, to be precise — some thoroughly experienced Footlights veterans, others just as experienced but new to the Footlights stage — who work in remarkably close harmony, employing the kind of seemingly effortless, clocklike precision that can make well-done live performance such an exhilarating experience.
Here, in alphabetical order, are the names of the six inspired, hard-working actors in this ensemble: Julia Badaraco, Maria Boissonneault, Edd Clark, Maggie Griesbach, Kathy Rendich, and Aric Walton.
Edd Clark — who's had a long history of involvement in professional theatre, has appeared before at Footlights, and sings in the Maine Gay Men's Chorus — and Kathy Rendich — new to Footlights but a thoroughly experienced actor with onstage credits in several states, who sings with the Royal River Chorus in Falmouth — worked exceedingly well together in "Everyone Around Us," playing two decidedly horny seniors who rekindle their red-hot but hibernating sexual attraction to each other when they unexpectedly meet on the street one day.
Julia Badaraco, a graduating senior of the University of Southern Maine Musical Theatre program, and Maria Boissonneault, a recent Musical Theatre BFA graduate from Coastal Carolina University, showed the Opening Night audience why they have every right to look forward to a solid future in professional theatre.
Aric Walton, a newcomer to Footlights who's performed in several plays at South Portland's Lyric Musical Theater, does a smash job in the song in which he plays a sultry, swaggering young man who, in the service of high-level, laugh-a-minute theatre, puts it all on the line, only inches away from a group of front row female audience members, delivering a bravura demonstration of vaudevillian physical comedy at its best. I had no choice but to roar with laughter at his performance in that song.
Maggie Griesbach, who has appeared in several productions at Lyric Musical Theatre in South Portland before this, her debut at Footlights, struck me throughout this performance as having an entirely natural but less-than-fully-tapped gift for comedic acting. For me, her song-per-song performances on Opening Night were reminiscent of the work of the legendary comediennes Imogene Coca and Carol Burnett. And whoever failed to laugh, long and hard, at their uninhibited, slapstick humor?
Paul Stephan, the more than capable Musical Director and Accompanist for this production, uses his formidable, nation-wide resume and thoroughly seasoned musical expertise to help drive the heart, soul, and tempo of this impressive ensemble performance. He must also be responsible for the high quality of always-in-tune solo, three-part, and four-part singing in virtually every one of the 22 songs.
Songs like "Turn Down the Radio," "(Fish) In the Microwave," "Close Your Mouth," and "Hell on Wheels" will have you falling off your chairs in laughter as you recognize, in song-after-song, the all-too-familiar misbehaviors that add negative spice to our otherwise predictable, acceptable days.
Footlights Theatre, only minutes from downtown Portland, is on 190 US-1, Falmouth, Maine. For tickets to HOW RUDE — and for information about future Footlights performances and special events — write to footlightsinfo@aol.com or call the Footlights Box Office, 24/7, at (207) 747-5434.
— Ross Alan Bachelder  www.artsaplenty.ME  April 22, 2023